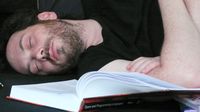 Sebastian Gregor is part of the vvvv group, one of the main developers of vvvv and principally involved in the language design of vvvv. Together with Joreg he runs the company checksum5.

www.checksum5.com
http://vvvv.org/users/gregsn
© 2010. An event by NODE Verein zur Förderung Digitaler Kultur (i.G) in cooperation with the Frankfurter Kunstverein and the vvvv group.