Frankfurter Kunstverein
We are proud and happy to be hosted by the Frankfurter Kunstverein, where in addition to the exhibition a great deal of the workshops will take place along with the lectures, the nightly patcher kucha and performances. The place to relax will be at the café inside the Kunstverein, where you can chat with the participants and meet old and new friends, or grab that mic and present your work to the others.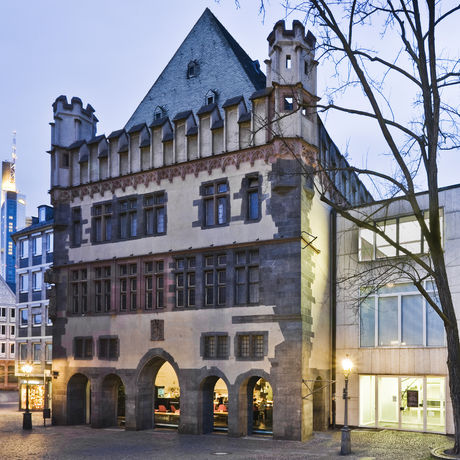 EXTERIOR VIEW FRANKFURTER KUNSTVEREIN
Foto/Photo: Norbert Miguletz 2008
© Frankfurter Kunstverein
Photo on top:
STAIRWAY FRANKFURTER KUNSTVEREIN
Foto/Photo: Norbert Miguletz, 2008
© Frankfurter Kunstverein
MA* / former Diamond Bourse
Packed with art, workshops and people, the Frankfurter Kunstverein is bursting at the seams. Therefore, we are happy to have found our second location. The former "diamond bourse", now called MA* is an old shopping center that is nowadays scene of exhibitions, performances and creative space for students and artists.
The location will be setting for a part of our workshops. Also you will be able to stroll around and take a look at more art, selected submissions from our call for entries.
Adress
MA*
Stephanstraße 1-3
60313 Frankfurt am Main
Get there by U4-7, S2-6, S8, S9 or tram line 12.
Station: Konstablerwache
Accomodation

For those with low budget and the need for a nice place to stay... We recommend to get a bed at five elements. It is a very clean and cozy hostel with lots of really nice people working and living there.
Address
Frankfurter Kunstverein
Steinernes Haus am Römerberg
Markt 44
60311 Frankfurt am Main
Get there by metro lines U4 , Tram line 11 and 12, or by night bus lines N1, N8. Station: Dom /Römer
© 2010. An event by NODE Verein zur Förderung Digitaler Kultur (i.G) in cooperation with the Frankfurter Kunstverein and the vvvv group.