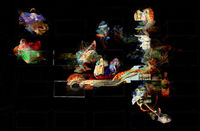 Scott deLahunta is Senior Research Fellow, Coventry University/ R-Research Director of R-Research Wayne McGregor|Random Dance and Programme and Research Coordinator for Motion Bank, a new four-year project of The Forsythe Company providing a broad context for research into choreographic practice.
Photo: Synchronous Objects Project, The Ohio State University and The Forsythe Company
© 2010. An event by NODE Verein zur Förderung Digitaler Kultur (i.G) in cooperation with the Frankfurter Kunstverein and the vvvv group.